July 14, 2021
What is a Will? What is a trust?
Are you in search of a Colleyville Texas Attorney for Wills and Trusts? The Fetty Firm can offer you exceptional services and protection of assets. Whether you're in need of estate administration or the composition of a legal document, we have an attorney at law that is second to none. Her name is Rashelle Fenty and she focuses particularly on wills and trusts. Our priority is ensuring that your affairs are in order both in life and in the event of your passing. It is important that you get the final say.
What is a Will?
In a broad sense, a will is a legal document that organizes and delegates the various items within your possession to your extended family or those you have selected. A will is necessary, as it provides the ability to convey your desires in a legal fashion. We must advise that you take the time to build a will with your attorney, and we can provide you with an exceptional one. This is because there are a lot of small details and fine points which require an expert in the field to interpret. Otherwise, you may jeopardize some of your property and its value, or rather access to it.  Without a Will, it becomes more difficult to discern the value and ownership of your property. This is known as dying intestate which essentially settles the process in a manner that takes little to no regard to any of the desires of the party involved. It is hard to do this on your own and is necessary for you to communicate your wishes clearly and precisely. If you're interested in constructing a will, please contact us!
The Contents Of A Will Usually Contain
Designation of an executor, who carries out the provisions of the will.
Beneficiaries—those who are inheriting the assets.
Instructions for how and when the beneficiaries will receive the assets.
Guardians for any minor children.
Each of these sections deserves delicate attention because you will have no control over posthumous events unless a proper will is intact. Make sure to be able to name every beneficiary with exact detail. It's imperative to ensure that the members who you aim to have parts of your assets are designated. Otherwise, there will be confusion in how to divide the property — even more difficult in the instructions of how to obtain it.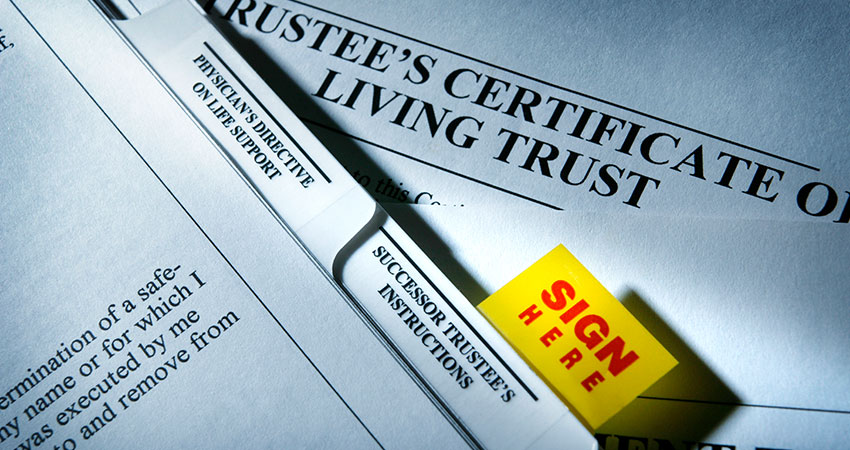 What Is A Probate?
After the assets of the estate have been passed in the will, they will be subject to the probate. This is the process that will be undergone to assess the value of your estate and distribute it in a manner that pays taxes, debts and follows the details of the will. They are usually very costly and require deliberation in the legal documents (wills, trusts, etc.) to ensure that there are distinct actions made in your favor.
What Is A trust?
To understand a Trust, you have to know that the probate is a very calculated and extremely expensive way of dividing your estate. In essence, it is the most bureaucratic and callous method to do so. Therefore, the role of Trusts is to move your assets into the possession of a third party which will hold it for you under such circumstances. It is usually to avoid or at the very least lower the taxes or cost of the Probate. In some cases, you can bypass it almost entirely.  Through this format, your beneficiaries may gain access to these assets faster than using a will. If it is an irrevocable trust, it may not be considered part of the taxable estate. That means fewer taxes may be due upon your death. It is a great way to protect your wealth and ensure your legacy is preserved.
Are There Different Kinds Of Trusts?
There are dozens of trusts which all pertain to unique situations of scenarios that you may experience. They are also broken down into two larger categories which consist of Revocable and Irrevocable Trusts. They are determined by unless directly decided, the life of the grantor. If they are alive, then they will most likely operate under a Revocable Trust. This kind of trust is flexible and can be dissolved at any time. This is a good choice for those who are unsure of their future and don't want to make any permanent decisions. On the other hand, an Irrevocable Trust does what the name suggests. People usually choose this trust in order to move estates and assets out of reach of taxes or the probate. However, when you choose this route you lose the ability to change details of the deal or dissolve it.
How Do I Get More Information?
Asset protection is a must. That's why it is critical that you speak to a professional about Trusts and/or Wills because of how sensitive they are to your personal property. The Fetty Firm is happy to clarify and even help you draft any of these documents. Our phone number is 214-546-5746. Finally, a Texas Attorney for Wills and Trusts has never been easier to find. We are here for you now and will help with whatever you may need. We will take care of clients in Tarrant County and the surrounding area. Feel free to visit us on our Tarrant County Estate Planning website and get more info about all the other services we provide. Call today, we hope to hear from you soon!